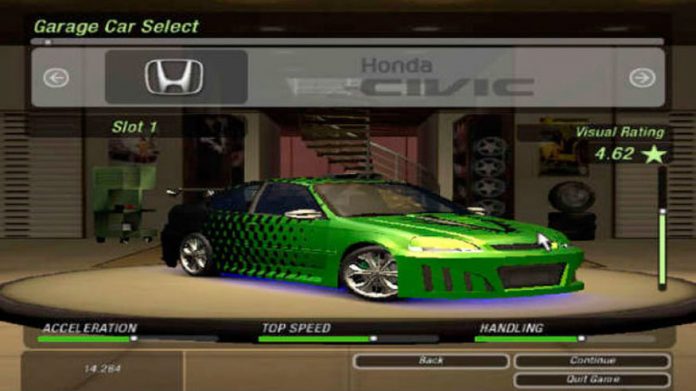 Ovde smo vam predstavili neke od najpopularnijih automobila u svetu igrica. Malo smo istraživali i saznali koji su to automobili najviše korišćeni u video igricama. Izdvojili smo 10 najpopularnijih modela do sada korišćenih.

Nissan Fairlady Z
Nissan ima masovno prisustvo u video igricama već dugi niz godina i njegovi Z modeli gejmeri posebno vole. Noviji 350Z i 370Z su se isticali u nekoliko novih igrica, posebno u skorijim delovima Need for Speed franšize.
(Slika: stariji Z model iz Grid 2 video igrice iz 2013. godine)

Acura NSX
Iako još nije u prodaji, novi model NSX je pronašao svoj put do igrica kao što je Gran Turismo 6. Prema IGCD-u, NSX se nalazi u različitim video igricama, ne samo u gore navedenoj.
(Slika: NSX iz 2005., Shift 2: Unleashed)

Volkswagen Golf
Verovali li ne, Volkswagen Golf ima zapravo dobar udeo u video igricama. Možete voziti specijalno podešene Golfove iz B.C. HPA Motorsports-a u Gran Turismo igrici.
(Slika: Golf, GTA)
Toyota Celica
Primeri iz stvarnog života I upotrebe Celica-e preneti su na igrice, ali najpopularnija prilagođena alternativa ovih automobila je GT4 reli auto iz ranih devedesetih.
(Slika: Celica, Gran Turismo 6)

Dodge Charger
Ne bi trebalo da vas iznenadi činjenica da je ovo jedan od najpopularnijih modela u filmovima i igricama. Pored toga sto ima mnogo igrica u kojima će te se susresti sa Charger SRT-8 modelom, svi zapravo žele da voze klasik iz '68 ili '69 R/T, prema IGCD podacima.
(Slika: '69, Driver: San Francisco)

Toyota Supra
Mk. IV generacija Supre je jedan od najpopularnijih modela na svetu u gejmerskom svetu (verovatno I u stvarnom svetu.)

Nissan Silva
Kad je u pitanju Japansko tržiste Silvie, Mk V je onaj koji dobija svu pažnju, delom zbog svoje uloge u anime franšizama, kao sto je Initial D.
(Slika: Silvia '99, Initial D.)

Honda Civic
Proizvođaci igrica znaju da, i pored automobila koji su očigledno predmet mašte mnogih, gejmeri najviše vole virtualni prikaz njihovih stvarnih kola. To pomaže objašnjenju zašto je Civic tako visoko na listi – zato što je na veoma visokom mestu I u tabelama stvarnog života takođe.
(Slika: '86, Forza Horizon)

Mazda RX-7
Postoji 365 virtualnih verzija RX-7 koje možete voziti u hiljadama različitih igrica, prema podacima IGCD-a, jedna verzija za svaki dan. Sve verzije kroz životni vek modela su veoma popularne.
(Slika: Auto Modellista)

Chevrolet Camaro
Kao što je slucaj sa Charger-om, neoriginalna verzija mustanga koju izgleda svi žele da voze je ona iz '69. Najviše je se sećamo iz sati provedenih vozeći je u Midnight Club 3: DUB Edition.
Text preuzet sa: AutoMotoWorld
Sajt Auto Moto World News