The right place for all of you who love video games, TV shows, movies, anime, books, comics and the rest of the pop culture is the Belgrade fair where a prestigious gaming event, the famous GAMES.CON will be held, from 25th until the 27th of November.
Games.con is a festival intended for the fans of gaming and pop culture, but also for all those who want to play and have lots of fun. Under the motto '' you have to level up'', the festival for the seventh year in a row gathers the entire modern entertainment industry in one place and tens of thousands of consumers of everything it offers. Games.con will this year as well be your host in the biggest halls of the Belgrade fair, Hall 1, 1a and Hall 2, on over 25.000m2. During the three days of the festival, visitors can expect the highest quality gaming, artistic and competitive content, but also great fun, brainstorming and lots of gifts.
Fans of the video games will have a chance to learn everything about novelties from the gaming industry, to try new games and also to measure their skills in various e-sports tournaments. Games such as CS: GO, eFootball, FIFA, Brawl Stars and Mortal Kombat are reserved for those with a competitive spirit and the winners will receive valuable cash prizes!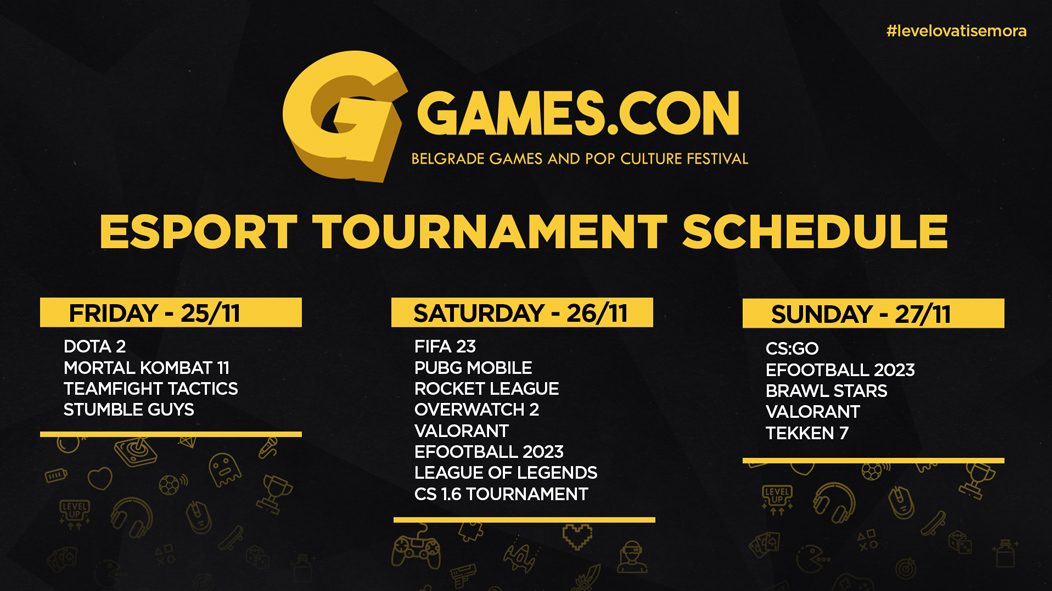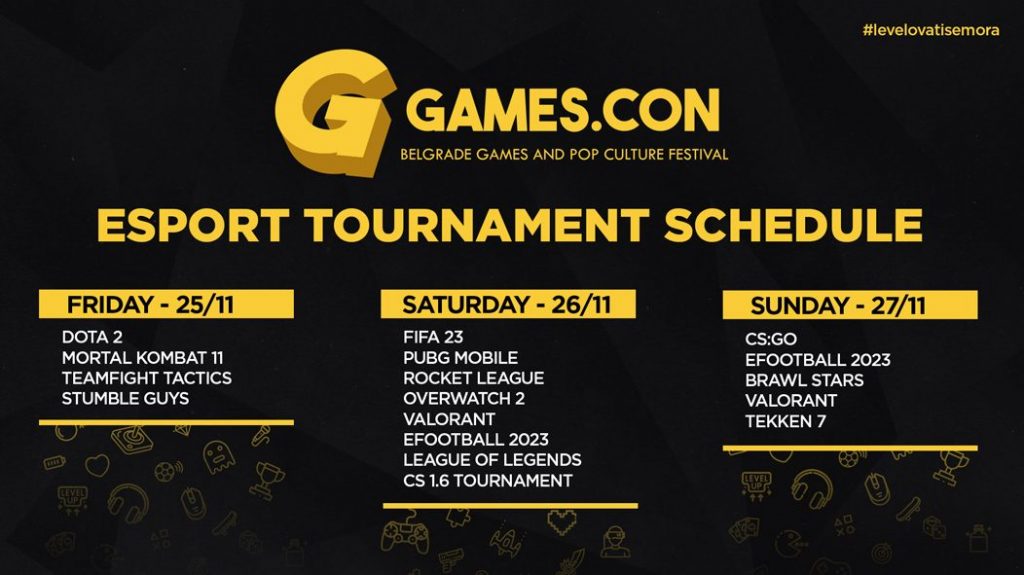 A wide range of the most popular manga comics, anime and other movies, TV shows and books of the world's leading franchises is provided for all of those who enjoy pop culture, as well as a rich music program that will not leave indifferent even the most refined artistic sense.
Tech fanatics will be able to enjoy the latest technology, and all those who like to play will be greeted with a lot of board games and quizzes, while the teams who enjoy teamwork will have a chance to try out the Escape room. But that's not all! At Games.con there will be a cosplay competition, as well as Market Square, a fencing tournament and various programs.
Big doors of Games.con will be opened on Friday, 25th of November at 10:00am!
You can buy your tickets at all Gigstix sales points, as well as at the ticket office in front of the fail hall.
THE BIG E-SPORTS SPECTACLE AT GAMES.CON IS WAITING FOR YOU!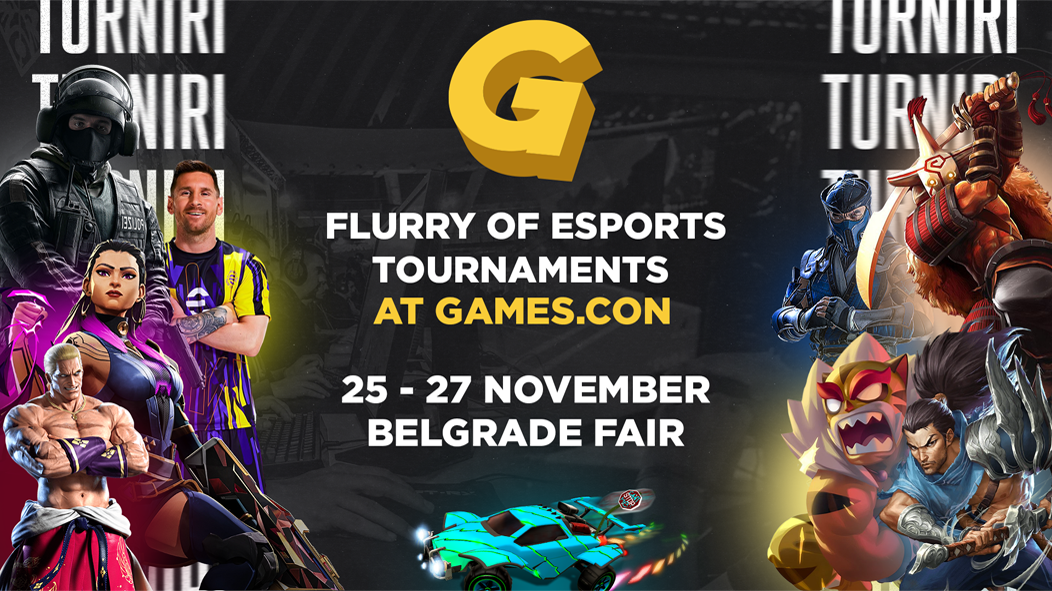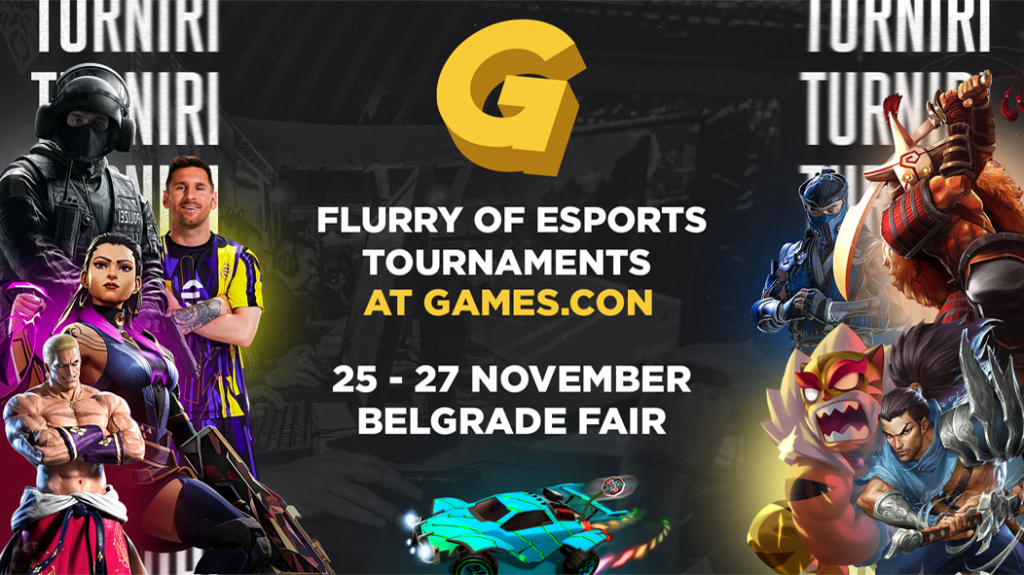 Compete and win valuable cash prizes!
The biggest fair of popular culture on the Balkans is finally returning to us in all its glory, with the richest and most entertaining program so far. The festival will have a lot of great activities from the world of video games, movies, TV shows, books, anime, comics and board games, but Games.con wouldn't be Games.con without the spectacular e-sports tournaments!
Video games are a source of great fun for all ages, but if you are skilled gamers and you have a competitive spirit, why not monetize your talent? Well, at this year's Games.con festival you will have that chance again!
Apply and comp ete for valuable cash prizes from the total prize fund of 20.000 euros, and a couple of surprises!
During the three days of the festival, more than 20 tournaments prepared by our organizers Klan RUR, Fortuna, Esports, Klikcon, EHLS and many more will be held! There will be everything for everyone – from shooters and MOBAS, all the way to fighting games and football simulations.
In addition to the e-sports tournaments, competitions in current board games will be waiting for you too! We are sure that in the rich repertoire you'll be able to find a game that suits you!
This year a lot of classic e-sports titles that we all know and love are returning to us, such as League of Legends, Mortal Kombat, FIFA and CS:GO, but there will be a few of novelties such as Valorant and Owerwatch 2.
Over and above all of these modern games, we'll be remembering the good old days with Counter Strike 1.6! Any way you turn it, fun for all of the competitors is guaranteed!
You can find the schedule e-sports tournaments schedule for all three days of the festival!
For the full list of the games and application info, check out our website gamescon.rs!
Big doors of Games.con will be opened on Friday, 25th of November at 10:00am!