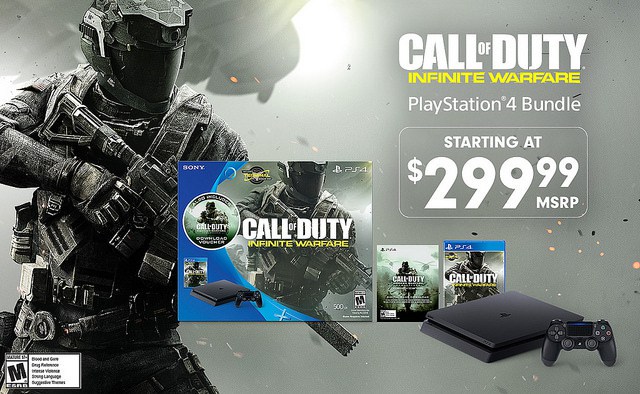 Nakon prošlogodišnjeg uspešnog Call of Duty Black Ops 3 predstavljanja, Sony će ponovo upakovati PlayStation 4 sa najnovijim Call of Duty igrama.
Ranije je najavljeno spremanje novog paketa vrednog preko 300$ sa 500GB slim PS4 modelom a zajedno sa tim i Call of Duty Infinite Warfare i Modern Warfare Remastered.
Ovaj paket uključuje fizičku kopiju Infinite Warfare i digitalnu kopiju Modern Warfare remastered.
Pre nego što idete misleći da možete prodati Infinite Warfare, setite se da Infinite Warfare disk treba biti ubačen kako bi se igrati Call of Duty 4 Remastered.
Sony nije objavio da će ovaj paket zameniti Uncharted 4 paket koji je služio za promociju PS4. Za razliku od Microsofta koji nudi više Xbox One paketa istovremeno, Sony je izbegavao da radi isto. Ukoliko ste zainteresovani za Uncharted 4 paket, verovatno ćete morati da uzmete jedan uskoro.