Quantum Bellator is esport organization established in Moscow,
Russia in 2016. Their CSGO team QB.Fire was created during 2016 but current lineup is active only couple of months – last player joined in September 2017.
Gregory "balblna" Oleinick


Aurimas "Kvik" Kvakšys

Saveliy "jmqa" Bragin

Nikita "waterfaLLZ" Matveyev

Kirill "Boombl4" Mikhailov
Coach:

Dimitry "iksou" Mihailichenko
After
CIS region receiving additional spots for Minor and later on Major qualifications QB.Fire started training hard. They were losing to pretty much unknown teams in mid 2017 just to improve gradually and reach their current peak by placing 2nd behind

AVANGAR but still winning a spot at Major Qualifications in Atlanta,
USA.
In Atlanta they had to fight some of the most known names in CSGO, such as
FaZe,
G2,
EnVyUS,
Cloud9 etc. No one gave them much chances but they proved them all wrong.
It wasn't really a perfect run and it certainly wasn't easy but they've managed!
Their first opponent was
Natus Vincere a legend in
CIS region and certainly one for the strongest teams in the world for very long time now. Map played was inferno and
Na'Vi showed who and what they are, as they won de_inferno 16:8 carried by
Aleksandr "s1mple" Kostyliev and
Egor "flamie" Vasilyev.
[spoiler title='Match Scores' style='orange' collapse_link='true']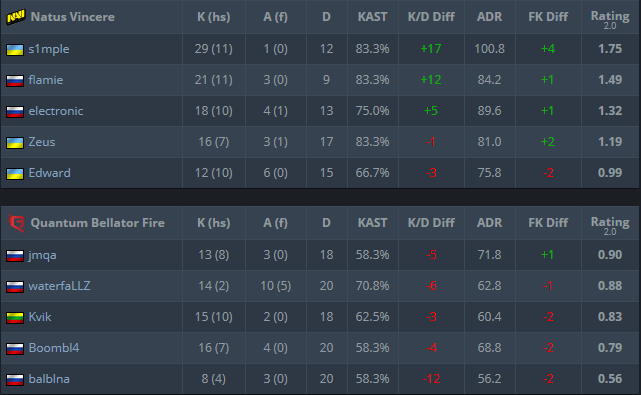 [/spoiler]
However some of the players were already showing that they can do great, no matter who is on other side of their aims.
Their next opponent was Chinese team

Flash who wasn't match for QB.Fire even then, as Russian team won de_inferno 16:13. Best player in that match was
Gregory "balblna" Oleinick but we must say that victory in this match was really a team effort. Result for QB.Fire now is 1:1 and they are in good position.
[spoiler title='Match Score' style='orange' collapse_link='true']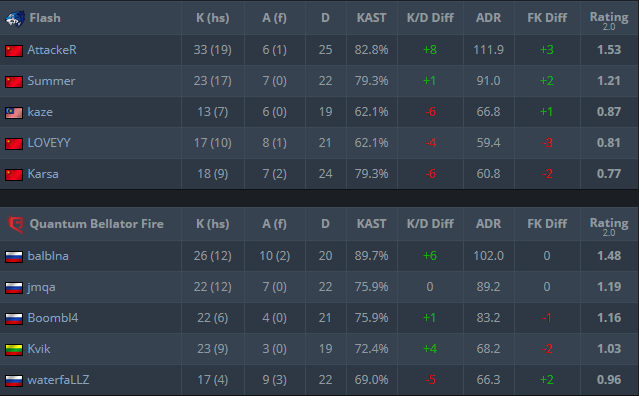 [/spoiler]
Just when they thought that they started a win streak draw decided that their next opponent is no one else but international punish squad
FaZe.
Nothing except solid win by
FaZe was expected and they've certainly delivered. QB.Fire was no match for group of stars carried by Nikola "NiKo" Kovač, Håvard "rain" Nygaard and Ladislav "GuardiaN" Kovács – so match on de_mirage was finished 6:16 and group result is now scary 1:2, as next loss is eliminating them from further competition.
[spoiler title='Match Scores' style='orange' collapse_link='true']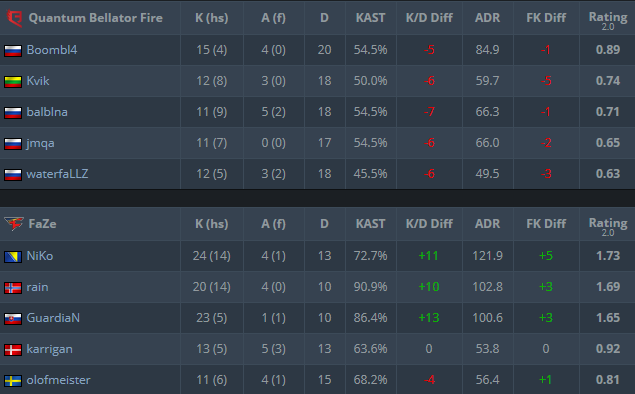 [/spoiler]
QB.F was in hard situation but everything was still in their hands as they had to play at least one more match. This time draw was somewhat better for them as they got to play French
EnVy.US who didn't show some spectacular games in tournament. Map was de_inferno where they had split success 1:1 and start couldn't be worse. Adil "ScreaM" Benrlitom was destroying them as T(at one point he was close to 300 ADR!) and it looked like story is finishing here for the team. However bit by bit team managed to get a decent result at half time 5:10 which gave  them enough room to stay in game even if they lose pistol round. Players of
EnVy.US started to play worse and QB.F started to gain momentum and confidence.

Everything exploded in round 27 when they stopped
EnVy.US two consecutive rounds and gained a match point! It didn't took them long to finish the game as they won next round and finished map with 16:12! Things started to look better now as they had one more chance to advance due to 2:2 result!
[spoiler title='Match Scores' style='orange' collapse_link='true']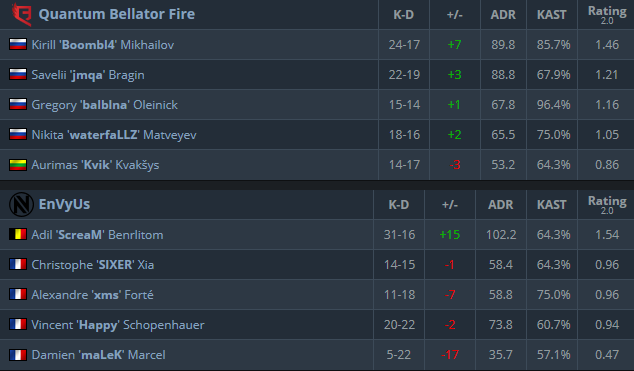 [/spoiler]
Their next game will be everything or nothing and only victory mattered. As opponent draw gave them familiar team

AVANGAR to whom they lost in qualifications finals 1:2. This time that cannot happen, victory is a must. Match was played on de_train and QB.F defended first and it was a solid half 6:9 as CT is a result you can really build on in second half. When sides were changed only one team was present on the map. QB.F destroyed

AVANGAR defense completely and with fast 7:0 finished the match and secured themselves a spot in Major Qualifications in Atlanta,
USA.