Amos Hodge, the lead designer at Raven Software, confirms to a fan over Twitter that Call of Duty: Modern Warfare Remastered will support private matches and a number of other options.
While the Call of Duty series always pulls in huge sales numbers each and every year, 2016 may be a different story as Call of Duty: Modern Warfare Remastered is garnering just as much, if not more attention than this year's entry, Call of Duty: Infinite Warfare. With high expectations already on this project, Raven Software is looking to deliver not just a better looking experience than what fans remember, but a game that can also satisfy modern shooter expectations as well.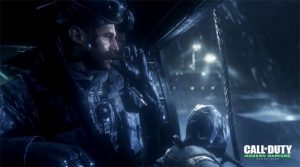 In response to a fan over Twitter over fan-requested features, Raven Software lead designer Amos Hodge revealed that players are able to not only create private matches but add AI bots to matches as well. This will be one of many private match options players can choose to turn on if they want in addition to previously revealed details like unlocked load outs and controller options.
Customization doesn't stop there, however. Hodge also confirmed over Twitter that players will be able to disable the in-game HUD options for medals earned during a match. Now, instead of seeing these flashy medals appear for doing something during a match, players can opt to see them at the very end. While, Call of Duty: Modern Warfare did feature medals, these icons were much more subtle than they tend to be in more recent versions of the series.
So far, Call of Duty: Modern Warfare Remastered appears to be doing and saying all the right things to hit and exceed fan expectations with its strong attention to detail. Whether or not that justifies picking up a copy of the Legacy Edition of Call of Duty: Infinite Warfare will vary from person to person, but Raven is certainly making a strong case for series veterans or hardcore shooter fans.
Private matches remain a popular feature with gamers and more and more shooters are starting to support this mode. As one of the longest requested additions, Bungie finally embraced private matches and added them into its popular sci-fi shooter, Destiny. One of the surprise hits of 2016, DOOM, is also adding private matches in its next planned free update.
Call of Duty 4: Modern Warfare Remastered launches November 4, 2016, for fans who purchase a premium edition of Call of Duty: Infinite Warfare.