With the Gaimin Gladiators winning their third Dota 2 Major this year after the Bali Major, all attention has now turned towards the illustrious Riyadh Masters 2023, beginning on July 19. This is the final professional LAN tournament before The International 12, so the competition is set to be fierce.
Keep reading because we've got all the information Dota 2 fans need to know about the exciting Riyadh Masters 2023 tournament, the crown jewel of the 2023 Dota 2 Pro Circuit. We've got all the teams competing, the full schedule, and all streaming destinations for online matches!
Set to have the biggest prize pool, with a whopping $15 million on the line, which lucky team will take home the lion's share at Riyadh Masters 2023?
RIYADH MASTERS 2023: FORMAT
Twenty teams officially announced will clash together in the DOTA 2 Riyadh Masters 2023 tournament as they fight for the $15,000,000 prize pool on the line! This massive prize pool is set to be the largest in Dota 2 history, and is evenly spread amongst all 20 competing teams!
Play-In Stage (July 19 – 20)
12 teams compete, split into two groups of six teams in a single-round-robin
All matches are best-of-two
Top two teams from each group advance to the Group Stage
3rd to 6th placed teams from each group will be matched – 3rd vs 6th and 4th vs 5th
Losers are eliminated, and the winners advance to the Group Stage
Group Stage
Two groups of eight teams compete in a single round-robin.
All matches are best-of-two
Top four teams from each group advance to the Playoffs Upper Bracket
5th and 6th placed teams from each group advance to the Playoffs Lower Bracket
Playoffs Stage
Ten teams compete in a double-elimination bracket
All matches, except the Grand Final, are best-of-three
The Grand Final is best-of-five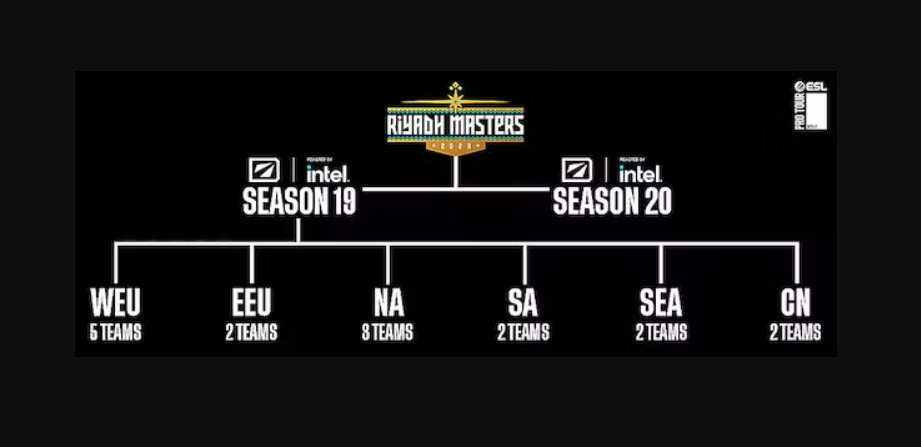 Play-In Seeds
Twelve teams are seeded into the Play-In Stage based on the EPT Ranking System, where the six main regions will have at least one representing team.
Team Liquid: miCKe, Nisha, zai, Boxi, Insania
9Pandas: RAMZES666, kiyotaka, MieRo, Solo, Antares
TSM: Timado, Bryle, kasane, Ari, Whitemon
beastcoast: Parker, DarkMago, Sacred, Scofield, Stinger
Team Aster: Monet, SumaiL, Xxs, Kaka, 皮球
Execration: Palos, Bob, Tino, Shanks, Carlo
OG: Yuragi, bzm, DM, Taiga, TBD
Virtus.pro: Kiritych~, squad1x, Noticed, Fng, sayuw
Entity: watson, Stormstomer, Gabbi, Kataomi', Fishman
Xtreme Gaming: Ghost, Paparazi,JT-, XinQ, Dy
Team Secret: Crystallis, Armel, Fbz, yamich, Puppey
Quest Esports: TA2000, No!ob, ATF, OmaR, kaori
Group Stage Seeds
The remaining eight teams are automatically seeded into the second stage, the Group Stage. There will be one team from DreamLeague Season 19 and two teams from DreamLeague Season 20. The remainder is decided from the top five average-placed teams from both tournaments.
Gaimin Gladiators: dyrachyo, Quinn, Ace, tOfu, Seleri
BetBoom Team: Nightfall, gpk~, Save-, Pure~, TORONTOKYO
PSG.LGD: shiro, NothingToSay, niu, planet, y'
Evil Geniuses: Pakaz, Chris Luck, Wisper, Matthew, Panda
Tundra Esports: skiter, Nine, 33, Saksa, Sneyking
Shopify Rebellion: Arteezy, Abed, SabeRLight-, Cr1t-, Fly
Team Spirit: Yatoro, Larl, Collapse, Mira, Miposhka
Talon Esports: 23savage, Mikoto, Jabz, Q, Oil~

Time & Date
July 19 – Group A
10:00 AM – Team Liquid v Entity
10:00 AM – Team Aster v Virtus.pro
10:00 AM – Execration v TSM
12:30 PM – Team Liquid v Execration
12:30 PM – Entity v Virtus.pro
12:30 PM – TSM v Team Aster
3:00 PM – Virtus.pro v Team Liquid
3:00 PM – Team Aster v Execration
3:00 PM – Entity v TSM
5:30 PM – TSM v Team Liquid
5:30 PM – Entity v Team Aster
5:30 PM – Execration v Virtus.pro
July 19 – Group B
10:00 AM – OG v Quest Esports
10:00 AM – Team Secret v beasctoast
10:00 AM – Xtreme Gaming v 9Pandas
12:30 PM – beastcoast v OG
12:30 PM – 9Pandas v Quest Esports
12:30 PM – Team Secret v Xtreme Gaming
3:00 PM – Quest Esports v Team Secret
3:00 PM – 9Pandas v OG
3:00 PM – beastcoast v Xtreme Gaming
5:30 PM – 9Pandas v beastcoast
5:30 PM – OG v Team Secret
5:30 PM – Quest Esports v Xtreme Gaming
July 20 – Group A
10:00 AM – Team Liquid v Team Aster
10:00 AM – Virtus.pro v TSM
10:00 AM – Execration v Entity
July 20 – Group B
12:45 PM – Quest Esports v beastcoast
12:45 PM – 9Pandas v Team Secret
12:45 PM – OG v Xtreme Gaming