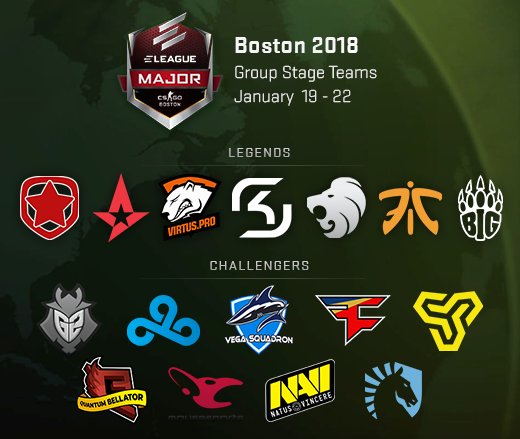 Day two of CSGO major held in Boston,
USA brought us several unexpected results and some really awesome games.

Quantum Bellator Fire 19 -vs- 16
Gambit
First timers on Major

QBF started their event with victory over
Virtus.pro but second round opponent is in far better form than polish side.
Gambit gaming an defending champion of CSGO Major destroyed
Na'Vi on de_nuke so they were clear favorites in this match up. Match was played in series so after initial lead of 2:0 for


QBF gambit returned with 3 consecutive round on their T side, just to have

QBF take next 5 as CT. Whole match was ran in series of rounds taken by one of the teams, but it only led to overtime. There 

QBF managed to take the win with "easy" 4-1 score to secure 2:0 in swiss format for them and now they only need one more game to qualify for playoffs and secure Legends status! What a run for Khazak team!
Gambit is on 1:1 score and they are in need of two more wins in order to advance.
Space Soldiers 16 -vs- 13 
Cloud9
As one would expect from two very promising teams, we've had a blast watching this match. de_cobble is expectedly T sided map and this game showed us nothing less. Amazing attacking side from
Space Soldiers showed us 11:4 half time as T, with only hand full of rounds taken "easy" by either side. Unexpected plays and amazing baits were part of pretty much every round but
Space Soldiers were somehow on top of it most of the time. Second half started the same way for
Cloud9 who won first 4 rounds and managed to recover with additional 5 after
Space Soldiers managed to defend 3 on their own. However
Space Soldiers was a somewhat better side and managed to close out the game with 16:13. Huge win for turkish team as first timers on Major event. They now stand on 1:1, which can be considered very positive as they played
SK in first round.
Cloud 9 is on 0:2 and they are in big problem as next match can decide their faith
FaZe 16 -vs- 3

Vega Squadron

FaZe finished qualifications with 3-1 score and that one loss has came from

Vega Squadron. As one would expect from #2 teams in the world
FaZe took this match seriously and prepared for de_train on time.
FaZe started as CT and completely destroyed attacking plans of

Vega Squadron who only managed to take 3 rounds as T. When sides turned
Faze continued as expected and with 4:0 finished the game without any worries or problems.
Faze is now on 2:0 while

Vega Squadron has 1:1 score.
G2 16:8
Liquid

G2 started their match really strong as they won 8 CT rounds consecutively on de_inferno , before
Liquid managed to get on scoreboard with ace from Nick "nitr0" Cannella.
Liquid managed to get two rounds in a row as T but that was pretty much everything they've done as T's as half was finished with huge lead for
G2 of 12-3! After changing sides
Liquid started somewhat better – making run of 5-1 – and it looked like we could have a close game in the end. 3 quick rounds from
G2 closed any hopes as map is finished with score 16:8.
G2 is now on good 2:0 score while
Liquid is on 1:1.
SK 16:12

Mousesports
This definitely was match of the day as both teams showed good play in first round.

SK as #1 ranked team was clear favorite but knowing how good and strong


Mousesports can be this started and ended as really good match. Match was played on de_mirage and it was played in short series of 2-3 rounds most of the time for one team before other makes same thing for them.
SK was playing T side and after initial 3 rounds, series swap started but it ended 7:8 for

Mousesports in the end. Not really best defense from german side but having
SK as opponent you will gladly take it at any point. Swapping sides brought us same type of play where players were making great shots and mini series on both sides but
SK managed to keep

Mousesports econmy under control. Last few rounds

Mousesports had problems getting full buy so their executions and post plant positions were significantly weakend whcih
SK used as much as they could. Match ended with score 16:12 but at multiple points game could have gone in different way.

SK is now 2:0 while

Mousespors is on 1:1.
Virtus.Pro 6 -vs- 16
fnatic

Virtus.pro as expected failed to deliver. They haven't showed any class for last who knows how long and today was no different.
fnatic simply stomped them on both sides. de_inferno where
fnatic is attacking shows completely non-working polish side as swedes run them over with easy 10:5. That even looked "ok" for
Virtus.Pro but changing sides showed how bad they really are at the moment.
fnatic started strong as CT, making 5 rounds in a row and getting to match point.
Virtus.Pro managed to deny them first match point but in just next round
fnatic finished one really one sided game for total score of 6:16.
Virtus.Pro is now on 0:2 and they are on verge of being eliminated while
fnatic managed to get to safe part of the board with 1:1.

BIG 1 -vs- 16
Natus Vincere
From one of most expected games in round we got probably biggest white wash with      
Natus Vincere taking down

BIG easier than expected. It looked like it started well for

BIG as they won pistol round on de_inferno but very fast everything turned around for them as
Natus Vincere completely destroyed them afterwards and without an issue closed the game with 1:16!

BIG is now on 0:2 and they are on verge of dropping out, while
Natus Vincere managed to jump back and to get 1:1 score.
Astralis 16 -vs- 14
North
Danish derby all around! Two best danish teams played on de_train and saw one of the closes game of the day.
North started as T and after winning pistol round they managed to secure next two. However
Astralis didn't give up and they defended two next rounds with defuses but then game starts to play out one round for each team. Finally
North manages to secure two rounds in a row and starts huge series of 6 rounds in a row to finish the half with 4:11 in their favor. In seconds half T side continues to dominate the map, but this time it's
Astralis who is gaining advantage. If we thought that
North had good side we were wrong.
Astralis plays absolutelly dominant T side where they take needed 12 rounds – without taking pistol round – to secure themselves a win 16:14.
Astralis is now 1:1 while
North is on verge of elimination with score 0:2.