Rejoice, Marvel Snap players. Another free mystery variant is headed to your inbox this season straight from the developers.
A bug from last season that has mystery variants on the paid track of the season pass instead of the free track as intended still persists in-game. And Second Dinner is once again compensating players with an additional free variant because of it.
Each Snap season pass includes an exclusive card, exclusive variants, exclusive card backs, avatars, titles, and currencies like Credits, Boosters, and Gold. There are both free and paid rewards in each pass, and one mystery variant is supposed to be free.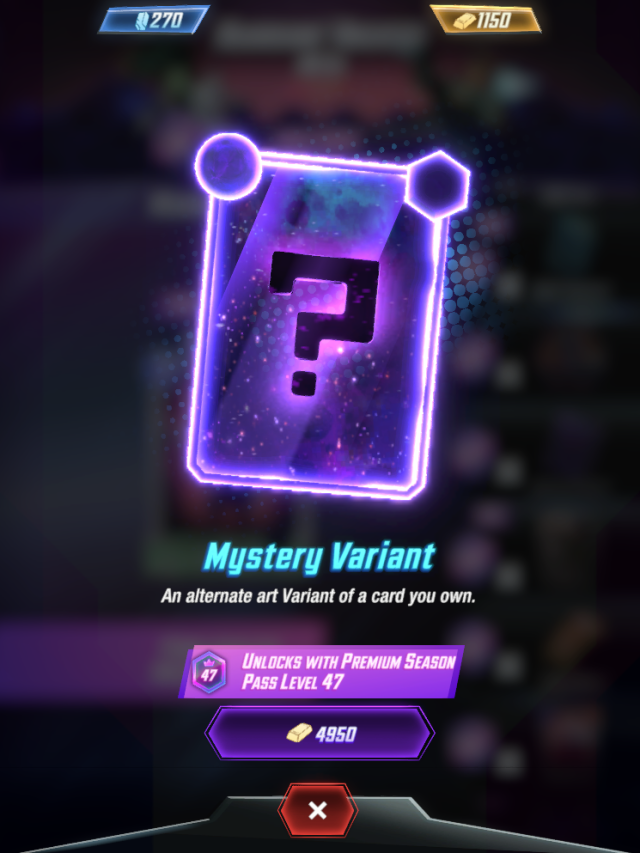 "As a reminder, this bug is still present in Guardians Greatest Hits, and we'll send everyone a FREE Mystery Variant via the inbox in the coming days," Second Dinner announced on May 2. "We'll share another update once we begin sending these out!"
Mystery variants are one of the more exciting drops players can obtain from the Collection Level track in the game, offering a random art variant of a random card in the game. It's the ultimate lottery, and when you land an awesome design for a card you enjoy, there's nearly no better feeling.
Marvel Snap's latest season features Nebula and variants for Star-Lord and Gamora to coincide with the release of the Guardians of the Galaxy Vol. 3 movie this weekend. Upcoming bundles this month feature the Guardians as well.
Snap players should keep an eye on their inboxes in the coming days for when the free variant arrives.