Great match from both sides where everything was decided in last round as Fnatic edges our Vega 16:14 on Inferno at FACEIT #London #Major #CSGO
First Half:
Great shooting by Igor "crush" Shevchenko and Leonid "chopper" Vishnyakov gave Vega very important pistol round as T's on Inferno. Good team play and exchanges gave Vega a victory in 4th round(full buy on both sides) to get CT's(Fnatic) into economic problems. Fnatic tried to bounce back but great 1v2 from TonyBlack gave Vega huge 7:0 lead.
Finally Fnatic started playing better as they take 3 consecutive rounds to consolidate their economy, but Vega stopped them in their tracks. Vega didn't allow much room for Fnatic who managed to get just two more rounds in first half. Score was 10:5 in favor of Vega and huge work ahead of Fnatic.
READ MORE: Fnatic cruises by Winstrike
Second Half:
Fnatic had a great start as they rush B site and take it with ease. That won pistol round was crucial as they've got a good 3 more rounds on the back of that one. However Vega wins a CZ75 force buy to turn things around. Two rounds for Vega brought Fnatic in bad economic state but they still manage to win on B site and to collect guns from Vega after Jesper "JW" Wecksell made amazing triple kill with spray transfer from AK47- 12:10. Fnatic managed to keep the momentum and collect 5 rounds in a row for 14:12 lead but Vega strike back with two of their own to tie up the score 14:14. Fnatic shows why they're so dangerous opponents as they manage to take two in the row and close out the game 16:14.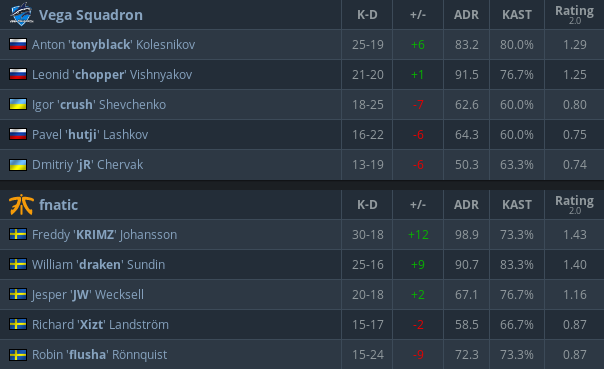 Vega is now 1:2 and it's in dangerous position while Fnatic managed to get to 2:1