One of main favorites for winning the Major – Team Liquid is playing versus Ninjas from Sweden.
First Half:
Liquid started great as they've won 5 consecutive T rounds from which 3 by bomb explosion. NiP managed to strike back with 8 won rounds from 10 played. Best in NiP were Patrik "f0rest" Lindberg and Dennis "dennis" Edman who had help from Fredrik "REZ" Sterner.
READ MORE: NiP bests Mousesports on Mirage
Second Half:
Liquid was somewhat better than NIP on defense(CT side) as they connected nine rounds with just 2 lost to NiP(T) before they've closed the match. Great defense by Jonathan "EliGE" Jablonowski and Russel "Twistzz" Van Dulken were just too much for Swedish side.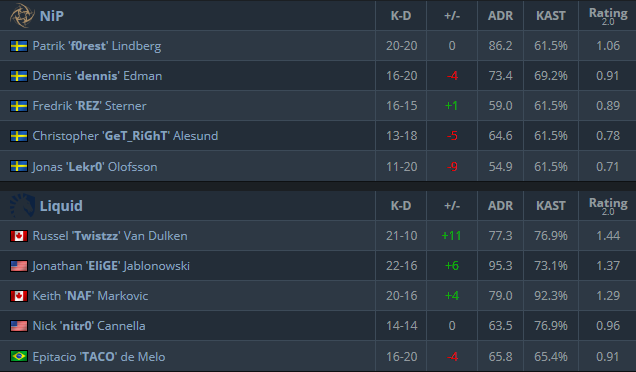 Liquid is now 2:0 and secured their Legends status, while NiP is down to 1:1 and will have to play at least 2 more matches.