After several surprises in group stage we have our top 12 teams that have qualified for WESG main event and continuing the fight for prize pool of $92,500.
Group A has seen likes of

GODSENT 4-0-0,
Ukraine 3-1-0 and
NOREG 2-0-2 advancing to playoffs while

Endpoint 1-0-3 and
North Academy 0-0-4 dropping out.
Group B had huge surprise with

Wololos 3-1-0 topping the group and leaving

Space Soldiers 2-1-1 and

BIG 2-0-2 behind them but still qualifying, while


Nemiga 1-0-3 and

Quantum Bellator Fire 1-0-3 have finished their run.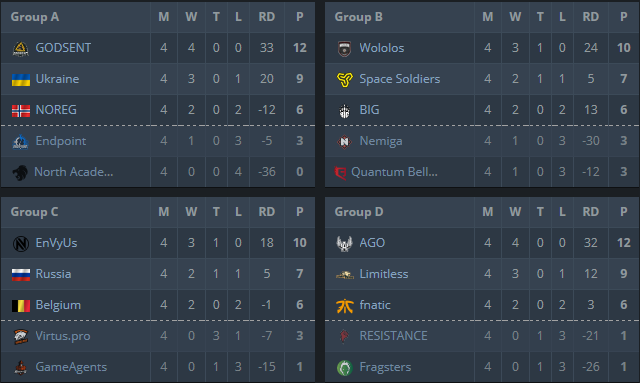 Group C had another upset where we saw
EnVyUs 3-1-0,
Russia 2-1-1 and

Belgium 2-0-2 taking playoff spots while
Virtus.pro 0-3-1 failing to qualify along with

GameAgents  0-1-3 who were underdogs in this group.
Group D shows us that

AGO 4-0-0 is in great shape as they take top spot ahead of

Limitless 3-0-1 and
Fnatic 2-0-2 who was expected to be guaranteed top spot before games started.

RESISTANCE 0-1-3 and

Fragsters 0-1-3 have finished their run this year.
Playoffs will see top 3 from each group playing Winner Bracket system where top teams from groups are already qualified for spot in 1/4 finals.
Space Soldiers  2 -vs- 0
NOREG  >
EnVyUs -vs-
Space Soldiers

Limitless 0 -vs- 2
Belgium >

GODSENT -vs-
Belgium
Russia 0 -vs- 2
Fnatic >

AGO -vs-
Fnatic
Ukraine 2 -vs- 0

BIG >

Wololos -vs-
Ukraine