WESG EU & CIS Qualifier group phase has started today where 20 teams are fighting for 12 spots that secure spot to main event and current prize pool of $92.500 split respectively.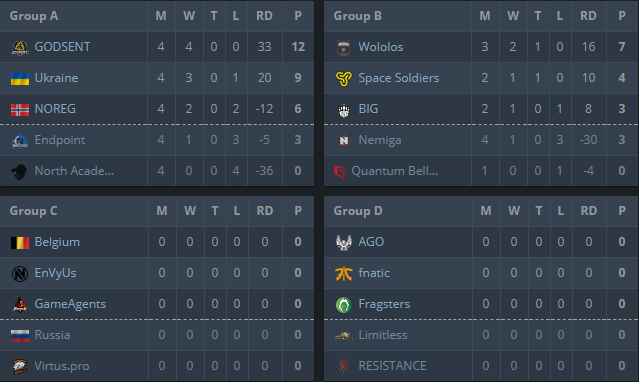 Group A has finished with

GODSENT securing top spot by winning all games with +33 round difference. Beside Swedish side spot in playoffs have secured team
Ukraine and
NOREG with 9 and 6 earned points respectively. Only team to not win a single game is
North Academy who ended up their round difference of -36.

Endpoint managed to snatch one win over
North Academy but that wasn't enough for them to qualify as Norwegian side had two wins
Group B is currently in progress with only

Nemiga playing all 4 of their matches and ending with 1-3 score after beating

Quantum Bellator Fire 16:12 on de_nuke.


Wololos are only one in this group so far with two wins while
Space Soldiers and

BIG with one but they have two more games to play.

Space Soldiers and

BIG are clear favorites for advancing while

Wololos and


Quantum Bellator Fire will fight for remaining spot in playoffs.
Group C and Group D will be played on Friday 24th November 2017.
Group C we have some famous teams like
EnVyUs and
Virtus.pro but that is not all. They will play against team
Belgium, team
Russia and

GameAgents. This is probably most even group as four teams quite close in quality with
EnVyUs and

Virtus.pro maybe being slight favorites as they play in their original lineups.
Group D 

AGO and
Fnatic will battle

Fragsters,

Limitless and


RESISTANCE for their place in playoffs. While
Fnatic and

AGO are almost certain to advance question is can

RESISTANCE, 

Limitless or

Fragsters make this group more interesting.
Stream is available at WESG1 and WESG2 for everyone who understand English.