Favorites from day1 of playoffs have confirmed their dominance, Liquid 2 -vs- 0 OpTic, PSG.LGD 2 -vs- 0 Virtus.pro, while some more known teams in loser bracket have failed to perform and finished their race – fnatic 0 -vs- 1 Serenity and Newbee 0 -vs- 1 Winstrike.
Team Liquid a reigning champion of TI7 have continued it's success by taking down OpTic gaming without breaking a sweat. They've shows why they are one of top contenders for the crown this time as well. MinD_ContRoL(Clinkz) was dominant in game one which gave them easy win in just 28 minutes! OpTic couldn't do much and Liquid just played what ever they've wanted to secure game 1. In second game it was even worse for OpTic as Miracle-(Ursa) just exploded having 12 kills, 4 assists and just 2 deaths.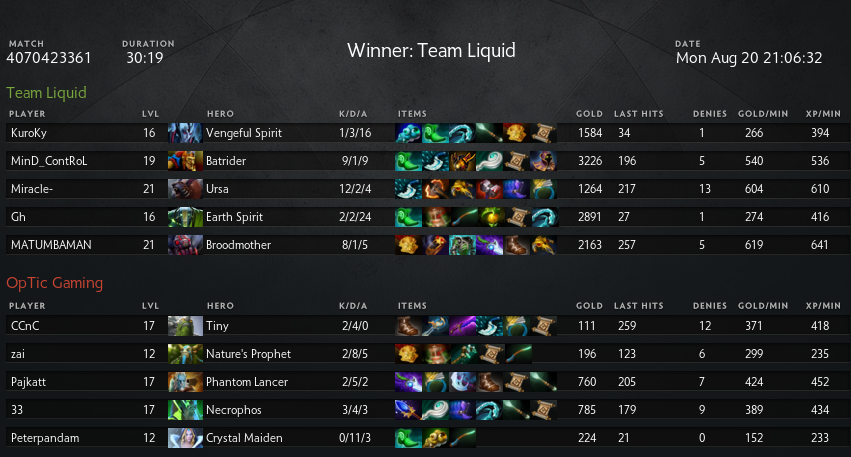 Second upper bracket match was meant to be a battle of titans, but only one titan showed up to the stage. PSG.LGD was losing first game for quite a bit, but Virtus.pro didn't manage to close out fast enough, which gave PSG.LGD time to turn things around and secure game 1. Even though kills were largely on side of Virtus.pro one final battle made all the difference. Second game was anything but tense. Virtus.pro tried to play Mirana (9pasha)and Alchemist(No[o]ne-) as duo but PSG.LGD read their picks perfectly and countered them with Terror Blade(Ame) and Lina(Somnus). Huge play making by Fy(Tusk) gave a lot of easy kills and fast items to PSG.LGD. Alchemist never really had a chance to play it's own game as Terror Blade simply cancelled him every time they've met leaving Terror Blade with 0 deaths at the end of the game.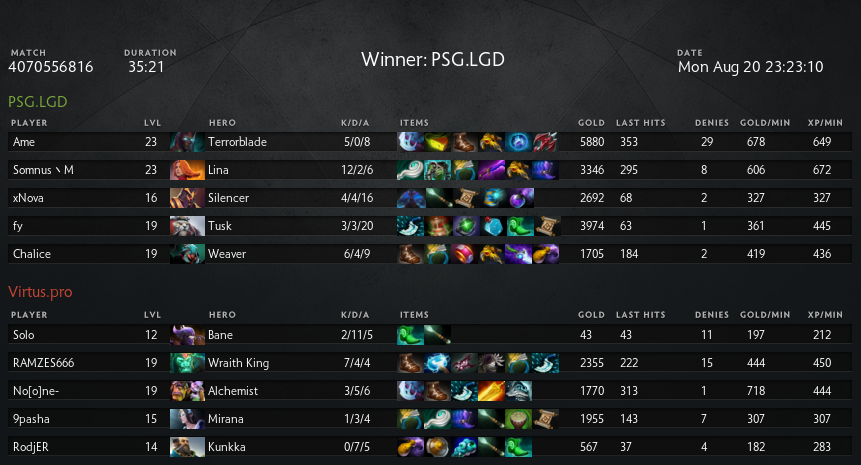 In lower bracket we've seen some teams that showed great individual performance while failing against better organized teams which landed them in 5-8th spot.
Fnatic who managed to take a win off of Liquid in group stage just didn't have it's day. Serenty out picked them with ease and used their comp far better as XinQ(Necrophos), Zyd(Lina) and Pyw(Tiny) had a blast combining their abilities.
Newbee who was one of most known names in world of Dota2 failed to place in top4 at the end of group stage ending in lower bracket. Winstrike has started strong and managed to get time for Silent(Phantom Lancer) to farm it's much needed items before starting to play aggressive. Eventually he was carrying the team hard, having 14kills, 14 assist and 5 deaths while collecting astonishing 12201 gold!(2nd player gold wise was his team mate on Tiny with 6656).
As Liquid and PSG.LGD secured at least top6 placement with wins in upper bracket, we see fnatic, Newbee, VGJ.Thunder and TNC finishing their run in TI8. They won't go home empty handed as each team won $123,942 in prize money.