After exciting day 1 where we've seen multiple upsets such as  Tyloo win over MIBR and Complexity stomp over Fnatic, we're ready for day 2 matches!
READ MORE: FACEIT London Major Day 1 Matches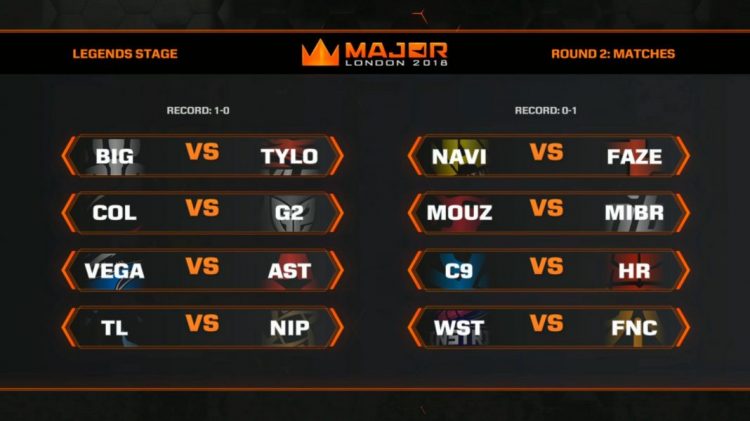 Teams on the left side(Legends Stage) are playing for 2:0 score and guaranteed spot on next Major(Legends Status). While teams on the right are fighting for 1:1 score and avoiding of "do or die".
Here is our pick for most exciting and best matches you can watch tomorrow:
Complexity -vs- G2 2:1
American team showed prowess and team play in day1 victory over Fnatic. They've been playing in great form and we expect them to show up tomorrow. G2 is clear favorite here with players such as Shox and KennyS. However they will have to do much better than today if they mean to secure that Legends status on day 2.
READ MORE: Complexity destroys Fnatic
Vega -vs- Astralis 1:2
Vega is no longer a surprise. They've played great in qualifications and simply stomped Cloud9 on day1. However they are yet to play a world #1 team Astralis. Danes didn't have "easy" day as they barely bested NaVi 16:14. Astralis has to be taken as favorites here but we expect a hard match tomorrow.
READ MORE: Vega drop Cloud9 to 0-1 bracket
NaVi -vs- FaZe 2:1
This will be for sure most popular match tomorrow. NaVi showed skill and composure even though they fell to Astralis 14:16. While FaZe didn't show up on day1 and with that many stars on lineup they have to bounce back. It wouldn't be first time that FaZe doesn't play well on start but still end up in semis or even finals of events. NaVi is favorite here but it should be a hard match with lots of nice highlights.